… the urge to blog 'personally' kicks in and, contrary to what some say
about keeping 'personal' off a business website, I just get on with it.
After all … I'm a whole person – not just business.
You probably are too, and hopefully – once in awhile – don't mind
reading the 'personal' and not just all business or marketing.
Any day now we welcome another little one into the family,
and whenever that happens it's a good excuse (like I need one …)
to go back and look at the others: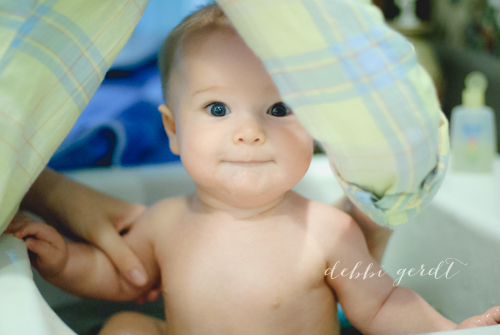 6 whole years since he had a bath in my sink.
At the time, he was "one and only" … this week we wait for number 6.
And I LOVE this picture. You know the commercial for PierOne
where you find what 'speaks' to you?
This. This speaks to me.
I remember when he looked at me and now I have it forever.
Some people scrapbook, some journal.
I photograph … 'collect' life (and go back over it a lot).
It's important to find those daily activities or processes that keep
you grounded and connected to feeling, family, and life in general.
How much better if, while in the process, you can provide the same
kind of "feel good" connections for others!