SENIORS 2016 … Looking forward to the upcoming year
and looking for a way to save big bucks on senior pictures?
Click on the 'SENIORS 2016' link below to download the coupon app,
show your phone at session, and save $50.
Apply the savings any way you like – and Share the app with all your friends
('Share' option within the app).
Who doesn't LOVE getting an extra 50 bucks?!

. . . . . . . . . . . . . .
Did you receive a ring recently? … raise that sparkly left hand!
Though it hasn't felt like it lately, spring really IS right around the corner!
March and April will be IDEAL months to take those engagement pictures
you'll want for creating announcements, invitations, the custom guest book,
or a display for the night stand, dresser, and wedding venue!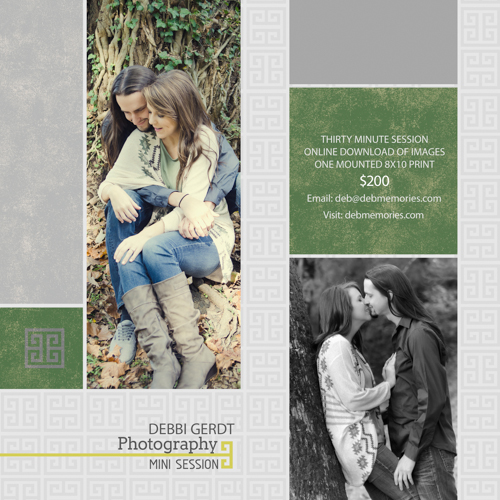 For 6 weeks, March 9 – April 17 (as weather permits),
Engagement sessions will be offered in 'mini' – and specially priced.
It's 'Digital Download Only', and includes your favorite image
in the form of a mounted 8×10, or pair of 5x7s.
(limited to weekday sessions – Monday through Friday).
Spring Special: This session price of $200 will be 'double savings'
when it's applied to one of 3 available wedding packages,
making this a GREAT opportunity to have fresh pictures made,
save some money, AND get acquainted with your photographer.
It's time to plan a wedding … let the fun begin!
Already have your engagement pictures but need some wedding pphotography information?
Continue Reading …