Graduations, summer weddings, and now it's baby season!
We've added 2 little ones to our family in the last 6 weeks
and 'everyone I know' is expecting a baby …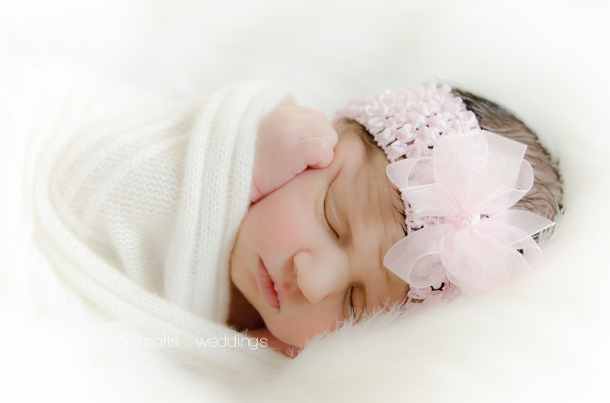 Wee ones are my very favorite subjects …
( … aside from weddings … and graduating seniors … ha).
It's said that you can't be much of a 'specialist' if you offer the whole gamut
of pictures from landscape and animals and food to people.
But aside from being asked occasionally to do other things,
I CHOOSE to concentrate on 3 'special to my heart' subjects:
graduating seniors, brides and weddings – and newborns.
They fit quite nicely together actually.
This winter after 8 years I'm coming full circle to photographing
newborns for ladies that I've captured as seniors and on their wedding days.
I like that …
continuity with just a little change as life goes on.
Expecting a baby in your family?
Here are a few portrait session tips to keep in mind wherever you go:
* Your session should take place before '10 days old'.
This is the BEST time for their curling up and falling asleep …
reaching the deep relaxed sleep that allows for comfortable posing.
Of course it's a must that you choose someone you trust with handling your baby.
(We've had 4 children of our own and as 'Dee' I now enjoy another 5 littles!)
* Expect the session to last 1 – 2 hours.
A slow pace and a comfortable baby result in great pictures.
We stop to 'change and feed' as necessary – and it usually is!
If you're at my home, you'll be given a comfy chair and beverage for refreshment.
* Baby should be well fed and freshly diapered before arrival (though we all know that changes).
If you desire 'baby skin' pictures, bring baby diapered and wrapped
in a warm blanket – no clothing … no socks. We'll have no crease lines to edit out,
and there will be less disturbing of their sleep for clothing removal or change.
* Relax and enjoy your session.
At my home (or yours) it's quiet, no voices above a whisper, the sound machine is on …
and babies LOVE my warm beanbag. Wraps and diaper covers are freshly washed
and available. And you may choose to bring up to 3 favorite head pieces or accessories.
Lastly … call me with the due date and lets get it on the calendar!