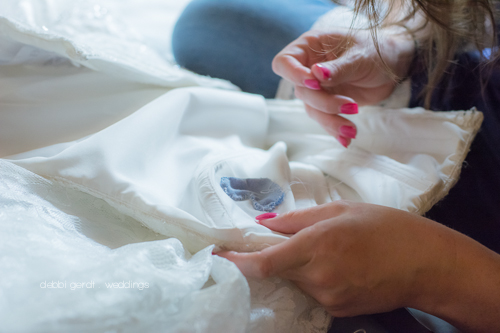 "Something old, something new …
Something borrowed, something blue …
Lucky penny in your shoe."
Not sure where or when that saying came about …
or if very many brides even take it to heart anymore for 'luck'.
Holly incorporated a new 'something blue' into her wedding …
perhaps in the sharing you'll be inspired with your own 'outside the box' wedding idea.
Dad works at a local manufacturing facility where 'blue shirts' are the required uniform.
In prep before getting dressed, a blue heart was cut out of one of Dad's shirts
and lovingly sewn into the dress bodice, to rest over her heart through the day.
While outside in the rain running last minute errands,
setting up tables and chairs, Dad was being remembered in the house as 'very special'.
Doesn't matter whether you're married or not …
"You never stop being Daddy's little girl".